Follow-up email sequences help your business stand out in the sea of noise generated by the current age of information overload.
Why do elephants ? have a tail ?

Here's the answer:

It would be a pity for such a big animal to end so suddenly.
Many entrepreneurs think follow-up ends when they send an email or two to a potential client.
❌ But it would be unfortunate to think that way.
Go past the 1st or 2nd email follow-up
Most books on sales & marketing talk about the need for a thorough follow-up. Yet, few people do it.
I know. It takes resources to get there:
?‍? Effort
⏳ Time
? Money
? Commitment
? Consistency
As well, consider the opportunity cost. What can you achieve if you direct your attention to activities that drive even more value for your business?
If you've done sales for some time – you've already noticed that magic happens after the 5th follow-up. That's where your conversions usually go up.
And, to put it straight – you're leaving money on the table ? after all that work to produce good marketing content.
After all, not everyone is ready to buy right away. Knowing where the prospects are in the buyer's journey is crucial to getting the right information in front of them.
The good news is there are ways to get this part of the job done with significantly less effort using sequences.
What is a follow-up sequence
A sequence is a series of automated email messages. The goal is to get the prospect to reply or take a specific action – usually to schedule a call in your calendar.
It is designed to replicate a manual follow-up by email. Just as you would normally send a new email a few days later after the previous email if you did not get an answer.
The thing that makes them special is the if/then logic behind.
Check this actual campaign I've set up recently: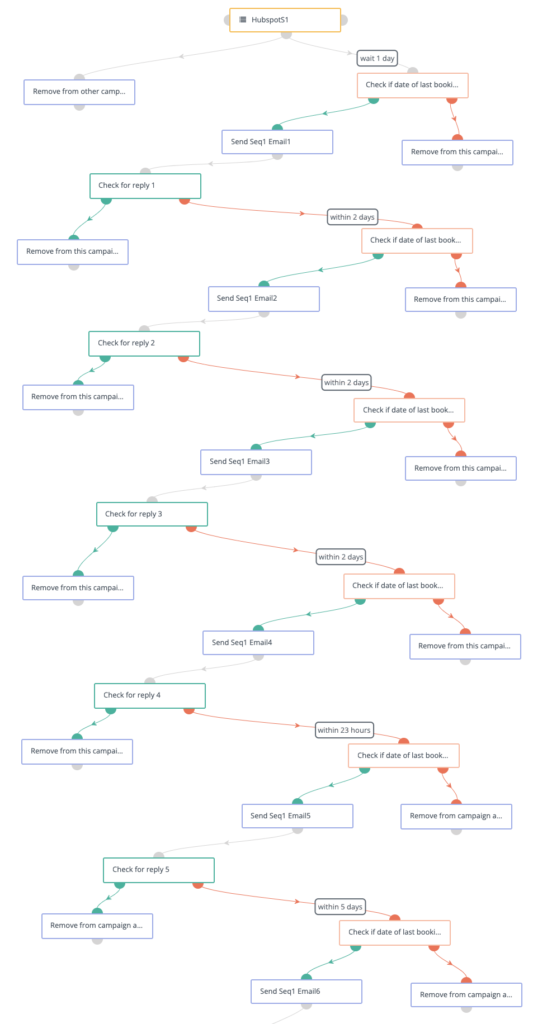 How do sequences work
First, you trigger the sequence when your prospect takes an action on your website. You can do that manually or as a part of a automated workflow.
Now the system will schedule to send all the emails at the predefined interval:
✉️ Send Email 1 – now
⬇️ Wait 2 days
❓Check if the prospect replied
❓Check if the scheduled a call
✉️ Send Email 2 between 9:00am and 7:00pm
⬇️ Wait 3 days
❓Check if the prospect replied
❓Check if the scheduled a call
✉️ Send Email 3 between 9:00am and 11:00am
✅ And so on…
It stops when the prospects reply, schedule a call or unsubscribe. That's it. From there you can take charge and help them advance through your sales process.
Use a plain text email template
After many campaigns sent in this style, I found out that the best performing are the ones containing only plain text emails. Just like those sent from your email app.
They mimic a manually written email the best.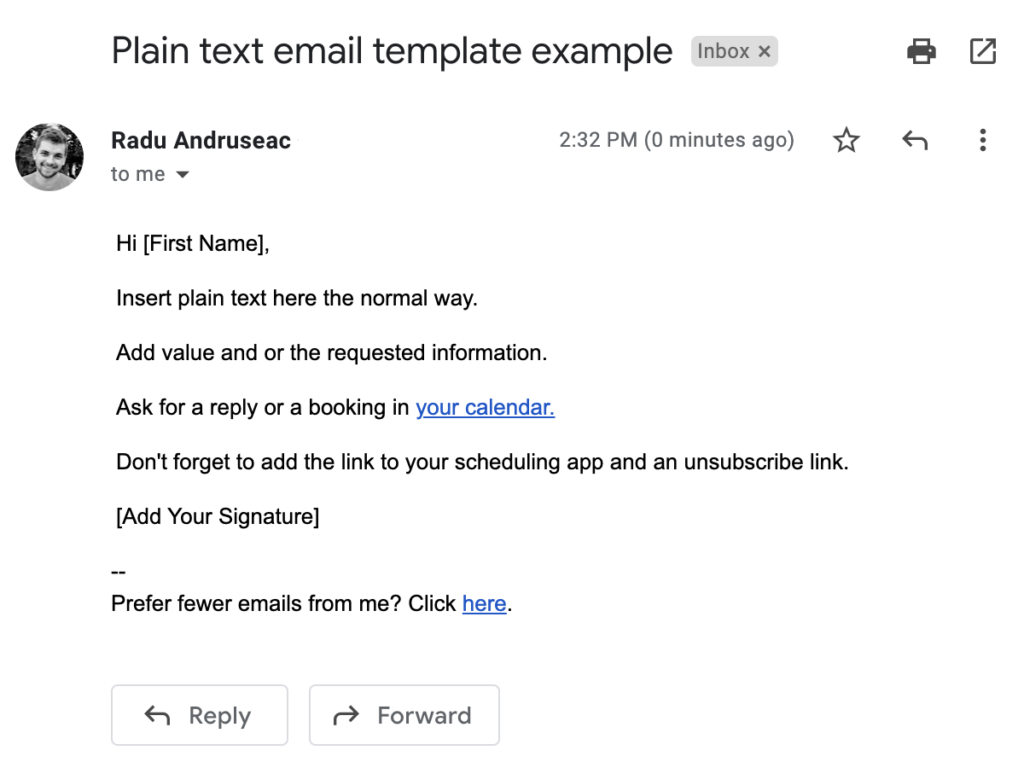 The template above mentions the link to a scheduling app. Check this article I've written to learn more about the art of using a scheduling tool.
Many times I even got replies from people thanking that I took the time to write them.
One of the secrets to get there is to make sure you message people at the right time with the right message. For this, and I'll repreat myself, you have to know where they are in the buyer journey.
Who should you enrol in a sequence
I recommend this approach with leads that are sales qualified.
You don't want everyone to be responding or getting on your calendar.
That's where lead scoring can help. I'll put some ideas from a LinkedIn post I wrote on this topic.
5 ideas you can use when designing a process to qualify leads:

? Do you have what the prospect needs?

? Will you be talking to the right person?

? Do their budget needs match yours?

⏰ How soon do they need a solution?

? Do they fulfil your basic criteria?
You can ask these in a form on the landing page of your product or service.
Have a next step prepared
When someone completes the first series of emails and does not respond a next step might be a good idea. For some prospects you will not want to take immediate action, but for others you might start a new step. It can be a new sequence or a different, even more personalised approach.
? One other thing you'll also want to do is set a notification for yourself that sends you a reminder whenever a sequence ends.
This way you'll know that you have you have to address the next step.
This ensures that no lead slips through the cracks.

I hope sequences will help you prioritise follow-up with the least amount of effort. If you have questions or tips of your own, make sure to leave them in the comments below.
If you're looking to start a proper follow-up process – please schedule a free strategy session here. If it's a good fit – I'll work with you to incorporate sequences into your funnel.
Credits: Featured image by wirestock @ freepik